Incise Film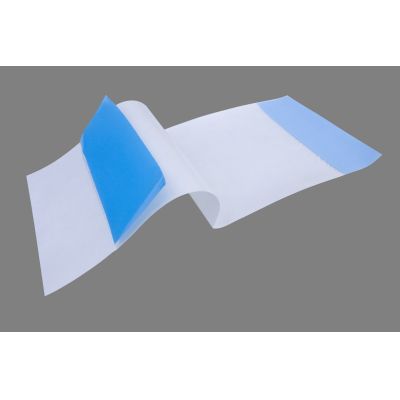 Intended use
OP-Film is intended for covering and protecting the surgical area to maintain sterility, and to be applied on the skin for skin protection.
Product description
OP-Film is a transparent polyethylene film single coated with a pressure and temperature sensitive adhesive. OP-Film is resistant to water, body fluids, detergents and alcohol. OP-Film is supplied with a white release liner and a blue finger lift. (For OP-Film S242 and OP-Film S262 only transparent fingerlift available). The construction is provided with a perforation line to easily remove the finger lift.
Advantages
During surgery, OP-Film remains unaffected by body fluids and other fluids used during surgery.
OP-Film is coated with a special type of adhesive that ensures maximum performance during surgical procedures.
Custom dimensions and versions are available on request.
Folded pre-cut sheets are available on request.
A print (i.e. a logo) on the release liner is available on request.