Construction Tape CDT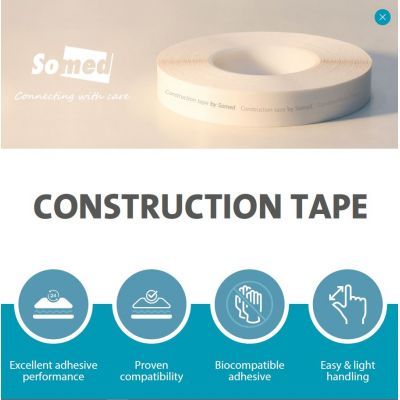 Intended use
Construction Tape CDT is intended to be used for creating bond between various materials during the manufacturing of surgical drapes.

Product description
Construction Tape CDT is a double sided tape consisting of a thin polyester carrier, both sides of which are coated with a uniform polymer adhesive
layer. The adhesives are pressure and temperature sensitive.

Appliance
Construction Tape CDT is applied to the surgical drape, after which it is sterilized and ready for use.
Quality assurance
Construction Tape CDT is manufactured in accordance with the EN ISO 13485 standard. This ensures that we deliver products and services that
consistently meet customer requirements, guaranteeing full customer satisfaction.
Construction Tape CDT has a CE label and comply with the requirements of the Medical Device Regulation (EU) 2017/745.
Advantages
• Construction Tape CDT is coated with an adhesive that ensures maximum performance for bonding non-woven materials, which was selected
after thoroughly testing several adhesives with a wide array of non-woven surgical drapes for bonding performance.
• The bonding strength of the employed adhesives is not adversely affected by sterilization.
• Biocompatible adhesive.
Recommendations, warnings and precautions
• Do not apply Construction Tape CDT directly on the skin of the patient.
• After applying the tape, wait at least 20 minutes before use to grant the adhesive time to cure.